According to Eve Willis of Prospect Magazine: `During Coronavirus, even trusting in science feels like a form of faith.' Whether we are religious or investing our hopes in scientific research, for many of us, this period of upheaval is changing our attitude to belief.'
We need all the comfort we can get in these strange times and for some faith provides a great support. Our different churches and faiths have a whole host of ways of connecting virtually and providing support within our communities.
Church of England
The Archbishop of Canterbury, Justin Welby, has launched a free national phone line as a simple new way to bring worship and prayer into people's homes while church buildings are closed because of the coronavirus. Daily Hope, which is available from today, offers music, prayers and reflections as well as full worship services from the Church of England at the end of a telephone line. The line – which is available 24 hours a day on 0800 804 8044 – has been set up particularly with those unable to join online church services during the period of restrictions in mind.
https://www.churchofengland.org/resources/coronavirus-covid-19-guidance/dailyhope-phone-line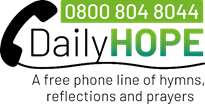 Prayer During the Day and Night Prayer audio are available on Soundcloud and via the Church's free Time To Pray.  The weekly online service is available from 9am each Sunday and this, as well as the full range of national resources, can be accessed on our church online page. This is all provided by the Church of England Communications team .

Methodist  Church
The Methodist church has a number of resources available on its website, including service sheets to download and use at home and live-streamed services on Sunday mornings. There are also links to morning prayers on social media channels. There are also resources for personal prayer and bible study.  If you find coming together with others to worship God with your voice then you can also get involved with a National Methodist Virtual Choir.
The Catholic Church
The Catholic Church is enabling online mass to happen by means of churchservices.tv. and as with all the faiths gives links to dying, recovering and giving care during the pandemic.
Islam
Every year, many
practising Muslims fast from dawn to sunset for the whole of the lunar month –
either 29 or 30 days – as part of the holy month of Ramadan.  This year is no exception, starting at the
end of April 2020.  But what should you
consider when it comes to fasting during a pandemic?
According to BBC Health Dr Jenna Macciochi an Immunologist from the University of Sussex advises that prolonged periods of not eating or drinking can weaken the immune system.
So it is important to
make sure you get enough calories during the hours you are permitted to eat,
including enough: macronutrients – carbohydrates, proteins and fats, micronutrients,
such as vitamin C and iron. It is also a good idea to eat a variety of food,
including lots of different coloured vegetables, fruits, pulses and legumes.  Both under- and over-eating can affect the
immune system, so you can help yourself by staying in "energy
balance", according to Dr Macciochi. 
There is also some
risk in becoming dehydrated, as it can affect the mucus that lines your airways
and acts as a protective barrier. But looking after other aspects of your
health by trying to get enough sleep and exercise and de-stressing where
possible can help keep your immune system functioning as it should.
The end of Ramadan normally sees Muslim communities coming together for a celebration of Eid-Al Fitr, the festival of fast-breaking , which this spring will be on Sunday 24th May.  Will this all have to be celebrated online too?  Mcb.org.uk (The Muslim Council of Britain) gives more information and advice about celebrating Ramadan at home, Muslim-Led volunteer initiatives etc.
Judaism
England's oldest synagogue, the 350-year-old Bevis Marks, which stayed open throughout the Blitz, remains closed during the Covid-19 pandemic.  But there are still ways that Jews can connect and worship together online. Reform Judaism provides RJ:TV an interactive broadcasting platform providing  interactive programmes – from daily prayer services and adult learning sessions to sing-along sessions for children.
Hinduism
The Diplomat.com reports how devout Hindus are adapting to religious practice under lockdown. This Spring Hindus around the world celebrated a nine-day period called Chaitra Navaratri which started with is Hindu New Year and ended with the festival of Ramanavami.  As with many religious ceremonies there is normally fasting, masses worshipping together as well as offerings in temples and festivals.  When temples are closed Facebook and Zoom offer a way to connect. Interestingly the Diplomat reports of feelings of guilt from Hindus who aren't now able to attend temple.
Sikhism
Sikhnet.com  have set out an action plan of rules to tackle the coronavirus in the Sikh community including advice on prayers "to rid humanity of this deadly disease and for guidance and protection of the Panth and the whole of humanity." The website gives online links to lockdown songs, e-learning lessons for children, supporting loneliness, videos to life after lockdown etc.
Buddhism
The Conversation.com  reports how thinking like a Buddhist about coronavirus can calm the mind and help us focus. The publication explains how "While scientists are working hard to find medical solutions, concepts from Buddhism can provide us with some solace for our overburdened minds. The Buddha's answer would be to focus solely on the existential facts, aiming first for understanding and then to adopt a pragmatic meditation practice."
Meditation might help to be more present and conscious of our own behaviour , for instance being  more conscious of cleaning our hands regularly and mindful of others around us so that we are careful about any chances of passing on germs.
A number of faiths continue to work together by means of on virtual meetings, to encourage cross-religion relations. https://www.interfaith.org.uk/news/covid-19-online-dialogue-and-other-inter-faith-activity
Our Pastoral Care Team is now able to offer Covid-19 secure services of worship in line with Government guidelines.
You can still view recorded messages, readings and services of worship on our vimeo channel:  https://vimeo.com/stmonicatrust
Our Pastoral Care Team are here for all those associated with the Trust,
of all faiths and none. If you'd like support, to chat or a listening ear
during these difficult times please do make contact :
Monica Wills House: Ruth Gillings: 0797 0912401 ruth.gillings@stmonicatrust.org.uk
The Chocolate Quarter: Lisa Loveridge: 07964 116 497 lisa.loveridge@stmonicatrust.org.uk 
Sandford Station: Julie Sims: 07875 340 291 julie.sims@stmonicatrust.org.uk and
Christine Ramshaw: 07494 860597 christine.ramshaw@stmonicatrust.org.uk
Westbury Fields: Colin Thompson: 07964 922 991 colin.thompson@stmonicatrust.org.uk
Cote Lane: Rod Cosh: 07931 962 997 rod.cosh@stmonicatrust.org.uk