Struggling for ideas of things to do at home when you're not at work? There's no doubt that technology has transformed our lives. Here's a whole list of things that you could try. You probably won't have the time to do them all!
Animals, zoos and farms
A chance to get a sneaky peak at the animals from a social distance.
Attend an online event or festival
Unfortunately, because of the pandemic, many music events and cultural festivals have had to be cancelled. Yet thanks to the internet and social media, many events are now set to take place online, meaning everyone can join in with the fun. Here's just a short selection. You can find loads more at eventbrite.co.uk.
Free Virtual Dog Festival: 18-24 Jan 2021 ( Workshops & expert sessions include – separation anxiety, canine body language, life stages nutrition, holistic grooming & our mindset )
https://puptalk.co.uk/pup-fest-2021-landing-page/
A Free Intro to The Art of Mindful Singing: 21 Jan 2021 9-10.15pm
https://www.eventbrite.co.uk/e/the-art-of-mindful-singing-free-intro-class-tickets-128567716501?aff=ebdssbonlinesearch&keep_tld=1
A Free Risotto Cook Along with Smeg: 25 Jan 2021 5.30-6.30pm
https://www.eventbrite.co.uk/e/rich-risotto-with-smeg-cook-along-with-smegs-home-economists-tickets-136285322067?aff=ebdssbonlinesearch
Get Drawing Sea Shells: Art for Wellbeing Workshop: 27 Jan 3-4pm
https://www.eventbrite.co.uk/e/get-drawing-sea-shells-art-for-wellbeing-workshop-tickets-130737540503?aff=ebdssbonlinesearch
HOW TO ORGANISE YOUR WARDROBE IN 5 EASY STEPS: TIPS, TRICKS & GADGETS: 28 January 6-6.30pm
https://www.eventbrite.co.uk/e/how-to-organise-your-wardrobe-in-5-easy-steps-tips-tricks-gadgets-free-tickets-136428853373?aff=ebdssbonlinesearch
Seed Starting for Beginners: 28 January 6pm
https://www.eventbrite.co.uk/e/seed-starting-for-beginners-tickets-133376856769?aff=ebdssbonlinesearch&keep_tld=1
An introduction to essential Tai Chi skills : Multiple Dates
https://www.eventbrite.co.uk/e/begin-your-tai-chi-journey-an-introduction-to-essential-tai-chi-skills-tickets-121038039033?aff=ebdssbonlinesearch&keep_tld=1
Harry Potter Book Night Family Quiz: 4 Feb 6-7pm
https://www.eventbrite.co.uk/e/harry-potter-book-night-family-quiz-tickets-133325553319?aff=ebdssbonlinesearch
Creativity
Being creative has many rewards and can have particular benefits during stressful and challenging times. Because of this, Rachael Dutton has set up a 'Creative Club' for everyone at the Trust – to inspire us all to get creative. Send your creative work, which could be a painting, photograph, poem, piece of prose, knitting, sculpture, colouring in – anything, to: webanddigital@stmonicatrust.org.uk . There is also now a dedicated Facebook page for the St Monica Trust Staff Creative Group. Please visit the site to request to join.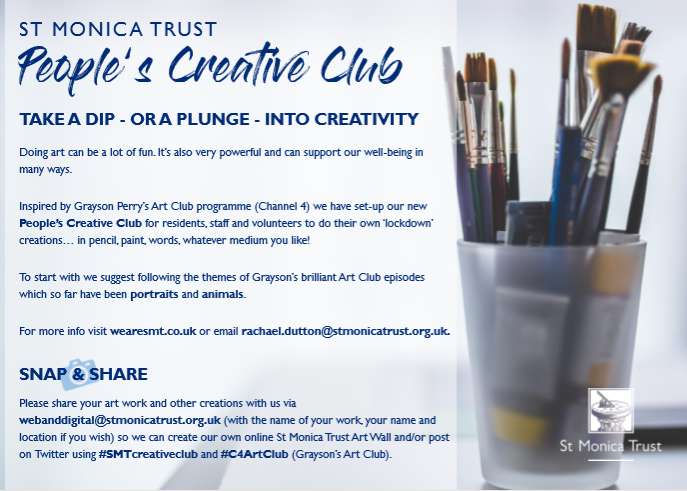 Alternatively you could try:
Higher education
The Open University has a range of free online courses. Harvard university has a variety of free online courses. Or there's the free Yale "happiness" course
Learn a new skill
There are many tutorials on Youtube where you can learn:
a new language
calligraphy
how to cook
how to take better selfies
how to speed read
how to juggle
how to do CPR
how to make a paper airplane (that actually flies)
how to survive a shark attack
the list goes on….
Learn to code (HTML, CSS, PYTHON and more)

Vamos theatre

 the UK's leading full mask theatre company has a series of videos where you can learn about different mask techniques

Nikon School

 Free online courses on a range photography styles
Museum tours galleries and activities
Play and Quiz
Use Zoom, Microsoft Teams, Facetime, Whats App, HouseParty or Google Hangouts to connect with friends and family and get playing:
Quizzes. There's a whole host online. If you want to support a charity at the same time, here are some packs for fundraising:
https://www.cancerresearchuk.org/get-involved/do-your-own-fundraising/the-big-quiz
https://www.alzheimersresearchuk.org/themightyquiz
Musical Bingo: rockandrollbingo.co.uk
Games Night: gamesnightmacmillan.org.uk
Theatre and performance
TV, film and cinema
YouTube Spotlight has an array of world-renowned plays, famous sporting events and amazing concerts available.