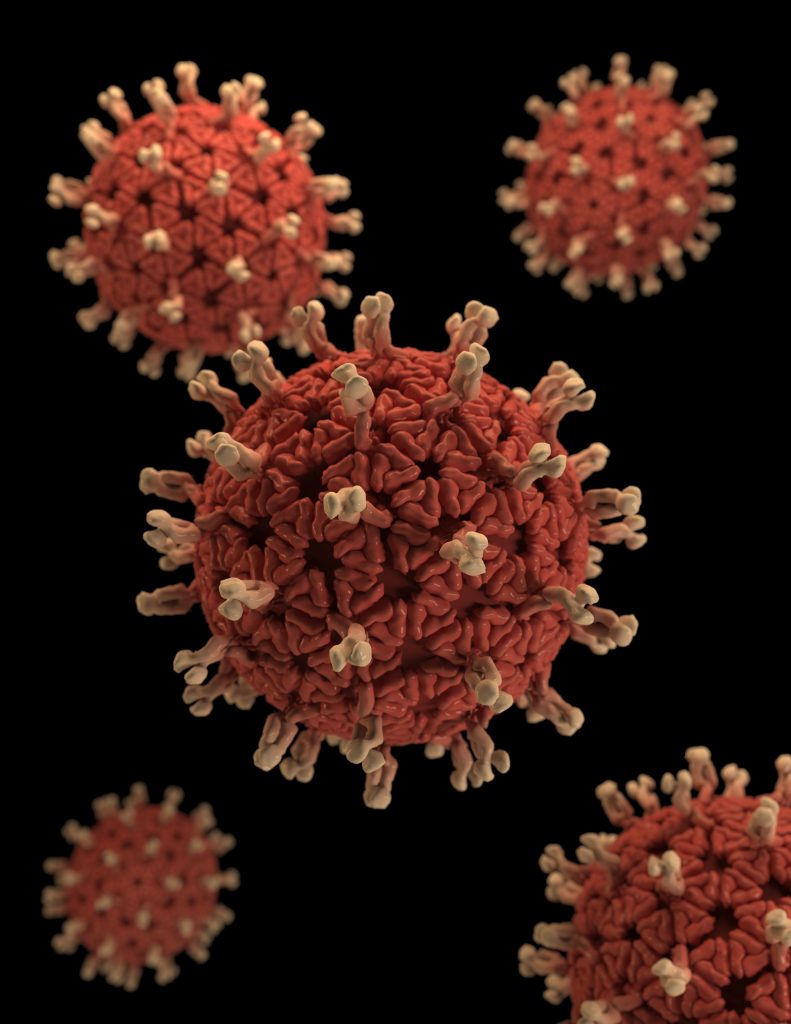 "We all need kindness at these times, and employers need to understand, be sympathetic, and allow their staff time to convalesce."

Paul Garner, Professor at the Liverpool School of Tropical Medicine who had COVID-19 during spring 2020.
COVID-19. This virus title didn't exist just six months ago. Now it's ubiquitous – it's literally gone viral. But what does it feel like to have and recover from COVID-19? I asked two of our colleagues, one of whom was talking on behalf of others who had also suffered, to tell me their stories.
From speaking to Sarah and Christine, I think the most important thing I learned is that having a good support network is essential for getting through COVID-19. Whether that's from people at home, friends, colleagues and/or line managers, knowing that people are there, checking in on you, is so important when you're going through this (and to be honest, any) virus.
Since contracting the virus in April, both colleagues are definitely on the mend but are still feeling fatigued. They have fully appreciated the phased return back to the workplace, the understanding and "timely gentle support" that Westbury Fields managers Wendy Leaman, Karen Mohamud, Jeanette Iles, Simon Jones, physiotherapy manager, and their respective teams have demonstrated.
Both colleagues described the initial stage of COVID as "scary". Not only did Christine and Sarah feel very unwell – both having dizziness, headaches and extraordinary tiredness, they also felt very anxious. Christine told us "you read social media and see that people are dying. For three days I was very upset. COVID makes you feel depressed."
While neither Sarah nor Christine had to go to hospital they both agreed that their symptoms were "moderate" and certainly not mild. The loss of taste and smell were profound, Christine experienced a very odd smell for a few days and then nothing. Sarah went off her food completely and even the pungent tastes and smells like ginger and incense, she couldn't sense at all. One of the symptoms which made coming back to work difficult for Sarah was the breathlessness associated with the pneumonitis caused by the virus affecting her lungs.
In addition to the sore throat, headaches, lack of taste and smell, temperature fluctuations, breathlessness and achiness, Sarah, Christine and other colleagues reported intense feelings of fatigue and tiredness that they are still experiencing from time to time. Sarah describes it as feeling "totally whacked out" and finding it hard to focus on more than one thing – even getting back into driving was a challenge with a "woolly head".
Sarah hopes that sharing these experiences will help other people and it reminds me as an HR practitioner that we should be mindful that people returning to work from COVID-19 may have been very poorly – remembering that we have had colleagues in hospital with the virus and cases of pneumonia linked to COVID. Returners will need support and time to return to a fully functioning state. This time can vary, and Sarah says she's still not quite feeling at full strength having contracted the virus four weeks ago. Sarah tells us that as a COVID sufferer, it's important to give yourself time to unwind after work – "if you deny yourself that time, the illness could be prolonged".
Remember that when you're in a mask and uniform, you can't really see what people are going through and those people themselves may just pretend that they're feeling ok.
The main learning points from speaking to our lovely colleagues are:
Be mindful of those who are in recovery – they may not be back up to their normal strength as soon as they return to work. 
If you are recovering from COVID-19, give yourself small goals every day.  Practice self-care.  Mindfulness is helping Sarah's recovery.  Here's a short video about self-compassion:  https://www.youtube.com/watch?v=-kfUE41-JFw
And here's a link to our well-being website about mindfulness:  https://wearesmt.co.uk/emotional/mindfulness/
Provide support as a line manager and a colleague – make contact, check in.  Don't feel that you're intruding, it's ok to ask how people are feeling when they're off sick, even if you don't get an immediate reply.
"It's a crafty illness and it creeps up bit by bit".

Christine Cox, Deputy Retirement Community Manager
For further reading, here's a blog by Paul Garner, a professor who has also contracted the virus:  https://blogs.bmj.com/bmj/2020/05/19/paul-garner-covid-19-and-fatigue-a-game-of-snakes-and-ladders/
The Trust is pulling through this pandemic together and we're still learning – it's been a new experience for all of us. However, we all understand that now is not the time for complacency. While we are proud of how the Trust is keeping our residents and colleagues safe during the pandemic, the virus remains in our close external communities, which means that to avoid a 'second wave' as the media has termed it, we must remain vigilant, keep our social distancing measures in place and use PPE as required by the Trust.
Thank you for reading and thank you to Sarah Nearney, Physiotherapist and Christine Cox, Deputy Retirement Community Manager, from Westbury Fields, for sharing your stories.
Naomi Stone, Colleague Engagement Manager
18 June 2020