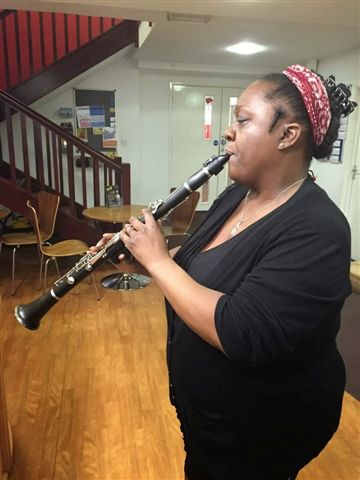 If Sophia wasn't an Activities Assistant at our Garden House care home, she could so easily be a professional storyteller. Her stories transport you to a time and place, which helps you to visualise and savour the recollection she's sharing with you. Read her story about learning to play the clarinet here.
Sophia had been feeling very low. Things had gone wrong for her. She had been through a series of events which had left her bereaved of special people in her life and needing to rebuild her sense of self-worth and well-being.
Sophia's dad had played the harmonica, "like Stevie Wonder", and the trumpet, and there were often instruments – drums and guitars – around that she'd enjoy picking up from time to time. Music has always been a part of her life. It was at home one day; she had Radio 3 on in the background, when the sound of an instrument caught her attention. The radio broadcaster said it was the clarinet. At that moment she resolved to herself: "I'm going to learn how to play that".
She agreed with her son that she'd sell a few of the old instruments – the drums she'd long since played at his school. And soon enough Sophia had enough money to buy her first clarinet, from Hobgoblin music shop on Park Street.
"It made the most beautiful sound".
"It's funny" she says, "because you'd think they'd all play the same, but clarinets all have their own characteristics".
Sophia stuck to her resolution and taught herself to play, right from scratch. She picked up a step by step clarinet learners DVD from the library. She'd phone her sister and say "I've learned five notes now!", "Wow" her sister would reply to encourage her. It took a while to learn the techniques, but she just continued and stuck at it. "My aim was to take bite-sized steps, sometimes using YouTube or even children's guides to help".
On sunny days Sophia would take her beloved clarinet to the park – the one near the Create centre "where you can see the suspension bridge, hear the water and see the boats sail past – a lovely spot". It was mostly older people who would stop and chat – "music brings people together". People in the park and at church started to give her tips, for example there are two or three ways to play the same notes – it helps with finger positioning for the flow of the music.
At the Garden House our residents enjoy hearing her play. They ask for things like Run Rabbit Run, Danny Boy and Daisy Daisy. She's now trying out some classical music – her colleague, Simon, is a pianist and they've played together, with him on the piano. The residents loved it.
"It just takes practise and confidence. People encourage me and find it beneficial themselves" Sophia tells me.
One eye-opener for Sophia in learning her instrument has been how talented our colleagues at the Garden House are – "lots of staff here have hidden musical talents; they just need time to pick up the guitar or whatever it is".
"If we had a guitar here (in the activities office), staff could borrow it and return it".
Learning the clarinet has made Sophia feel positive again. "It did get me out of that time. I don't know much about music therapy but I know it lifted my spirits".
When I asked what she would say to people who need the time to be creative or learn something new for their well-being, Sophia replied:
"Think of what you can do together – with your children or partner – for example one of our colleagues goes dancing with her husband. Do you watch telly or read? Do you watch things you don't really want to watch? I'd ask – what is preventing you from taking up a hobby – even just half an hour a week? I still practise my clarinet for at least 15 minutes a day."
While Sophia and I were talking, she showed me an email request from a relative of a Garden House resident with a suggested playlist for Sophia and her clarinet!
You see how music is therapy for us all?!
Thank you so much Sophia, for sharing your inspiring story. And Sophia wants to thank her lovely Garden House colleagues who are always encouraging – a vital ingredient for learning something new.
Finally, if anyone knows of a pre-loved guitar that could be donated to the home, please get in touch with our People Directorate who will share the news with Sophia.